Beijing Tours
Beijing Travel Advisor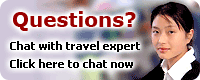 Send Your Enquiry
5 Days Amazing Beijing Architecture Exploration
Attractions: Tian'anmen Square, Forbidden City, Temple of Heaven, Badaling Great Wall, Bird's Nest, Water Cube, 798 Art Zone, Hutong
Duration: 5 Days
Tour Code: TBT-BJ-Theme-06
Tour Type: Independent Private
Price from: US$ 336
Detailed Itinerary:
Day 1
Arrival Beijing
Arrive in Beijing, the capital city of China, you will just start your marvel tour with a short glimpse of this international airport. Your local guide will meet you at the airport and transfer you to the hotel for check-in. Free at leisure for the rest of the day.
Meals: No Meals
Accommodation: In Beijing
Beijing, China's capital and one of the great travel destinations of the World, offers sights and cultural relics found no where else on Earth. The city has a character all its own; there are quadrangles, small alleys, tricycle, boiled mutton, roasted duck, arts and crafts, Peking Opera, The Great Wall, the 2008 Olympics venue and a vibrancy that is the distinctive flavor of Beijing.

Day 2
Beijing
It is the day to recall the brilliant glory of the past. After breakfast, you will have a city tour that starts with a visit to Tian'anmen Square, the World's largest urban square and the Forbidden City, the largest and most complete ancient imperial palace in the world. Actually, you can also take a photo-stop outside the National Centre Theatre (not enter) before head to the Forbidden City. After lunch, continue your visit to the Temple of Heave. Peking Roasted Duck is available for your optional dinner.
Meals: Breakfast, Lunch
Accommodation: In Beijing
As the biggest city center square in the world, Tian'anmen Square covering 44 hectares in the heart of Beijing. It is the place where history-changing events and ceremonies occurred. A few steps away, come to visit the Forbidden City, which was the Imperial Palace for 24 emperors during the Ming and Qing Dynasties and, it is one of the largest, and certainly the most completely restored, ancient architectural complex in the world. Walk in the footsteps of Emperors; come to the museum and see with your eyes, and feel with your hearts; you'll begin understand what life in this richest of feudal realms was like for the Imperial Rulers, their concubines and their slaves.
After enjoying a delicious lunch, continue on to the Temple of Heaven. Departing from the Imperial vermilion and gold hues of the Forbidden City, The Temple of Heaven is decorated in blue, the color of the Heavens. The perfect harmony between the architectural environment and nature can be felt here; you might easily imagine the vivid spectacle of a great sacrifice to the Heavens for a good harvest. The magnificent Hall of Prayer of Good Harvest is one of the most important and impressive building in China.
For today's dinner, how about taste the famous Peking Roasted Duck, as it is the best-known dish in Beijing. It is very tender and unforgettably delicious. You'll visit a local restaurant to enjoy a full meal and learn the proper way to experience Peking Roasted Duck. From the whole roasted duck to the soup of duck bones, you'll enjoy a banquet made from every part of the duck. Moreover, the chef will demonstrate his skill of cutting the skin of the duck for your entertainment.

Day 3
Beijing
The star attraction of China is its Great Wall, a massive defensive structure built to keep intruders from entering the mainland. Today you will have the opportunity to traverse the ancient steps of Badaling Great Wall, then is your big lunch time! Have you ever heard about Commune by the Great Wall? It's a great representative of modern architecture art under Kempinski Management and yes, you will enjoy your lunch there! After lunch, why not take a stroll around this construction to find something you interested? On the way back to your hotel, take an exterior view of CCTV New Tower, which has a nickname called "Big Pants".
Meals: Breakfast, Lunch
Accommodation: In Beijing
Just 75km North-west of Beijing, along a smooth and comfortable highway is the Badaling Section of the Great Wall, which is one of the best-preserved and most accessible sections. The Great Wall is an internationally admired structure, symbolic of the cruelty of the ancient rulers, and the stoicism and determination of the Chinese people. The construction of the Great Wall began in the 5th century BC.

Commune by the Great Wall is a private collection of contemporary architecture designed by 12 Asian architects. It was exhibited at the 2002 la Biennale di Venezia and bestowed a special prize. In 2005, Commune by the Great Wall was hailed by Business Week as a "New Architectural Wonder of China".
CCTV HQ (China Central Television Headquarters) or CCTV New Tower is outstanding for its brand-new appearance. The structure emphasizes stylish ideal. Two "L" shaped high-rise tower linked at the top and the bottom at an angle to form a loop, which has been described as a 'Z' criss-cross. The new CCTV Tower can be generally divided into three parts including the Main Building, The TV Cultural Center and auxiliary comprehensive facilities.

Day 4
Beijing
It will be a day about art and folk life. But firstly, you will have a short visit to the Bird's Nest and Water Cube, which no doubt, are the great representatives of Beijing's modern architectures. Then move to 798 Art Zone, or Factory 798, Beijing's "Greenwich Village" or "SoHo", a part of Dashanzi in the Chaoyang District of Beijing that holds a rich artist community. After that, why not enjoy a truly special excursion to Beijing Hutong, where you will get a closer view into the lives of ordinary Chinese people, about the local tradition through years.
Meals: Breakfast, Lunch
Accommodation: In Beijing
The spectacular Bird's Nest, be considered as the finest arena in the world and the centre-piece of the most expensive Olympics in history. It has well hosted the spectacular Opening and Closing Ceremonies, athletic events, and football final of the 2008 Summer Olympics. Though designed for track & field events of the Olympics, the stadium will continue to host sporting events, such as football, afterwards. A shopping mall and a hotel, with rooms overlooking the field, are planned to help increase use after the Olympics. It will become the most important public space in Beijing.
The National Aquatics Centre, also known as 'The Water Cube', is one of the most dramatic and exciting venues to host sporting events for the Beijing Olympics in 2008. The external appearance was inspired by the natural formation of soap bubbles! It utilized state-of-the-art technology and materials to achieve the visually exciting structure, but it's more than just a pretty place.
Beginning in 2002, artists and cultural organizations came to "798" and began to divide, rent out and remake the factory spaces, gradually developing it into several galleries, art centers, artists' studios, design companies, restaurants, and bars. It became an area of international character, bringing together contemporary art, architecture and culture with a historically interesting location and an urban lifestyle which attracting attention from all around. "798" has evolved into a cultural concept of interest to experts and normal folk alike, influential on our concepts of both urban culture and living space.
If exploring the Forbidden City has improved your understanding of the lifestyles of China's ancient Imperial Court, then this relaxing Hutong Tour will give you an insight into the lives of ordinary Chinese people and reveal their social culture in today's Beijing City. The narrow streets of old Beijing are known as Hutongs. You'll take a rickshaw tour along the Hutongs and see the 100-year-old houses, courtyards and a vanishing way of life in today's Beijing.

Day 5
Departure Beijing
Be transferred to the airport for the flight to your next stop.
Meals: Breakfast

Service Ends
Full price of this tour (per person in US$):
JAN, FEB, DEC MAR, JUN, JUL, AUG APR, MAY, SEP, OCT, NOV
Group Size
Using Standard Hotel
★★★
Using First Class Hotel
★★★★
Using Deluxe Hotel
★★★★★
Double
Occupancy
Sole
Occupancy
Double
Occupancy
Sole
Occupancy
Double
Occupancy
Sole
Occupancy
1 person
838
896
1087
2-5 persons
553
718
582
776
677
967
6-9 persons
403
570
433
627
528
817
10 persons & above
336
465
366
524
428
650
Group Size
Using Standard Hotel
★★★
Using First Class Hotel
★★★★
Using Deluxe Hotel
★★★★★
Double
Occupancy
Sole
Occupancy
Double
Occupancy
Sole
Occupancy
Double
Occupancy
Sole
Occupancy
1 person
880
955
1170
2-5 persons
573
760
610
834
718
1049
6-9 persons
425
610
462
685
570
900
10 persons & above
355
502
391
576
465
724
Group Size
Using Standard Hotel
★★★
Using First Class Hotel
★★★★
Using Deluxe Hotel
★★★★★
Double
Occupancy
Sole
Occupancy
Double
Occupancy
Sole
Occupancy
Double
Occupancy
Sole
Occupancy
1 person
938
1078
1293
2-5 persons
602
817
673
958
780
1173
6-9 persons
453
668
523
809
631
1024
10 persons & above
373
539
443
679
521
835
Remarks:
1.
The prices quoted here are only valid from March 1, 2011 to March 1, 2012. TCT reserves the right to adjust the prices of any portion of the tour due to the reasons beyond our control without prior notice.
2.
All quotation is in US dollar (per person), and based on the exchange rate between CNY and USD in effect at the time of publishing. It is subject to change.
3.
The quotation on our website is also subject to change during some Chinese festivals, national holidays, fairs or events, when hotels may levy higher rates which will be advised on a case by case basis.
4.
The availabilities of rooms, flights and etc. are subject to change until the actual booking is been made.
5.
Specific requests such as adjacent or connecting rooms, bedding requests, smoking or non-smoking rooms and special dietary needs should be subjected to reconfirm upon your arrival. We would put on your request to the Hotel.
Price includes:
1.
Airport/railway station welcome and
private transfers between airports/railway stations, hotels and sightseeing spots. Separate arrivals and departures will incur extra charges.
2.
Domestic airfare of economic class or train ticket(s) as mentioned in the itinerary. Airport construction fee and fuel surcharge are included.
3.
Accommodation (if include Yangtze cruiser) based on two adults sharing one standard twin-bed room (cabin); solo travelers or those who want to occupy one twin-bed room/cabin of their own are required to pay additional charge of single supplement rate (S.SUPP in above price table). A single room (cabin) is subject to availability based on prior request at an additional cost; if the recommended hotel is not available, it will be substituted by a similar one.
4.
Driver and English-speaking guide service on normal sightseeing activities noted in the itinerary.
5.
All entrance fees to scenic spots as shown in the itinerary. The final arrangement will be determined by local tour guides based on the local circumstances which are beyond the control of TopChinaTravel. TCT will adhere to the original itinerary as accurately as possible.
Price excludes:
1.
Round way International airfare or train tickets, unless otherwise noted.
2.
Visa fee, passport application or renewal fee.
3.
Tips for guides, escort, drives, bellman, etc.
4.
Personal expenses such as excess luggage fees, laundry, postage, communications and beverages.
5.
Optional meals and shows mentioned in the itinerary, which will be added up if the clients desire to take the activities.
6.
Any extra cost caused by changes of natural disasters, fires, weather, governmental and local authority orders, political change, strikes, war, riots, quarantine, custom regulations, damages or injury caused by accident beyond the control of TopChinaTravel and that has incurred due to the tourist action violating the laws.
7.
Any items not specified in the plan.