Beijing Tours
Beijing Travel Advisor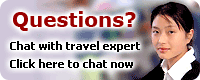 Send Your Enquiry
4 Days Top Beijing Tour
Attractions: Tian'anmen Square, the Forbidden City, Temple of Heaven, Mutianyu Great Wall, Summer Palace
Duration: 4 days
Tour Code: TBT-BJ-Classic-01
Tour Type: Independent Private
Price from: US$ 196
Detailed Itinerary:
Day 1
Arrival Beijing
Arrive in Beijing, the capital city of China. Be met at the airport and transferred to your hotel. Free at leisure for the rest of the day.
Meals: No Meals
Accommodation: In Beijing

Beijing, China's capital and one of the great travel destinations of the World, offers sights and cultural relics found no where else on Earth. The city has a character all its own; there are quadrangles, small alleys, tricycle, boiled mutton, roasted duck, arts and crafts, Peking Opera, The Great Wall, the 2008 Olympics venue and a vibrancy that is the distinctive flavor of Beijing.

Day 2
Beijing
Depart from your hotel, you will enjoy your today's visit covering Tian'anmen Square, the World's largest urban square and the Forbidden City, the largest and most complete ancient imperial palace in the world. Then visit the Temple of Heaven in the afternoon. Peking Roasted Duck is available for your optional dinner.
Meals: Breakfast, Lunch
Accommodation: In Beijing


As the biggest city center square in the world, Tian'anmen Square covering 44 hectares in the heart of Beijing. It is the place where history-changing events and ceremonies occurred. A few steps away, come to visit the Forbidden City, which was the Imperial Palace for 24 emperors during the Ming and Qing Dynasties and, it is one of the largest, and certainly the most completely restored, ancient architectural complex in the world. Walk in the footsteps of Emperors; come to the museum and see with your eyes, and feel with your hearts; you'll begin understand what life in this richest of feudal realms was like for the Imperial Rulers, their concubines and their slaves.

After enjoying a delicious lunch, continue on to the Temple of Heaven. Departing from the Imperial vermilion and gold hues of the Forbidden City, The Temple of Heaven is decorated in blue, the color of the Heavens. The perfect harmony between the architectural environment and nature can be felt here; you might easily imagine the vivid spectacle of a great sacrifice to the Heavens for a good harvest. The magnificent Hall of Prayer of Good Harvest is one of the most important and impressive building in China.

For today optional dinner, how about taste the famous Peking Roasted Duck, as it is the best-known dish in Beijing. It is very tender and unforgettably delicious. You'll visit a local restaurant to enjoy a full meal and learn the proper way to experience Peking Roasted Duck. From the whole roasted duck to the soup of duck bones, you'll enjoy a banquet made from every part of the duck. Moreover, the chef will demonstrate his skill of cutting the skin of the duck for your entertainment.

Day 3
Beijing
The star attraction of China is its Great Wall, a massive defensive structure built to keep intruders from entering the mainland. Today you will have the opportunity to traverse the ancient steps of Mutianyu Section of the Great Wall. Then drive back to the city for Summer Palace. If you desire, enjoy optional Peking Opera tonight.
Meals: Breakfast, Lunch
Accommodation: In Beijing

Mutianyu Great Wall was first built in the mid-6th century during the Northern Qi, making it older than the Badaling section. It is connected with Jiankou in the west and Lianhuachi and Jinshanling in the east. In 1569, the Mutianyu Great Wall was rebuilt, mainly with granite and is one of the best-preserved sections with the largest construction scale and best quality among all sections of Great Wall, being 7-8 meters high and 4-5 meters wide with 22 watchtowers on this 2,250-meter-long section. It served as the northern barrier defending the capital and the imperial tombs.

Originally known as the "Garden of Clear Ripples", the Summer Palace is a magnificent imperial garden located 15 km north of Beijing City. This is the largest ancient preserved garden in China and a former summer retreat for Emperors and the chosen few! The site includes more than 100 ancient style pavilions, mansions, towers, halls, temples, bridges and an enormous clear water lake. What is most enjoyable about the Summer Palace, it is simply a gorgeous place to relax, escape the smoke and crowds of the city and spend an afternoon walking. It is said one could just as easily spend one week out here as one afternoon. Here is a rare chance in Beijing, to lose the crowds and 'clear away the cobwebs'.

Peking Opera is China national treasure. Expert performers convey powerful emotions to the audience through song, dance, facial make-up, exquisite masks and costume, skilled use of body language and sympathetically integrated musical accompaniment.

Day 4
Departure Beijing
Be transferred to the airport for the flight to your next stop.
Meals: Breakfast

Service Ends
Full price of this tour (per person in US$):
JAN, FEB, DEC MAR, JUN, JUL, AUG APR, MAY, SEP, OCT, NOV
Group Size
Using Standard Hotel
★★★
Using First Class Hotel
★★★★
Using Deluxe Hotel
★★★★★
Double
Occupancy
Sole
Occupancy
Double
Occupancy
Sole
Occupancy
Double
Occupancy
Sole
Occupancy
1 person
590
629
756
2-5 persons
324
435
343
474
407
601
6-9 persons
239
350
259
389
322
516
10 persons & above
196
293
218
337
265
431
Group Size
Using Standard Hotel
★★★
Using First Class Hotel
★★★★
Using Deluxe Hotel
★★★★★
Double
Occupancy
Sole
Occupancy
Double
Occupancy
Sole
Occupancy
Double
Occupancy
Sole
Occupancy
1 person
618
667
811
2-5 persons
338
463
365
512
435
656
6-9 persons
253
378
278
427
350
571
10 persons & above
210
320
237
376
293
487
Group Size
Using Standard Hotel
★★★
Using First Class Hotel
★★★★
Using Deluxe Hotel
★★★★★
Double
Occupancy
Sole
Occupancy
Double
Occupancy
Sole
Occupancy
Double
Occupancy
Sole
Occupancy
1 person
656
751
895
2-5 persons
357
501
404
595
476
739
6-9 persons
272
416
319
511
391
655
10 persons & above
223
348
276
453
334
570
Remarks:
1.
The prices quoted here are only valid from March 1, 2011 to March 1, 2012. TCT reserves the right to adjust the prices of any portion of the tour due to the reasons beyond our control without prior notice.
2.
All quotation is in US dollar (per person), and based on the exchange rate between CNY and USD in effect at the time of publishing. It is subject to change.
3.
The quotation on our website is also subject to change during some Chinese festivals, national holidays, fairs or events, when hotels may levy higher rates which will be advised on a case by case basis.
4.
The availabilities of rooms, flights and etc. are subject to change until the actual booking is been made.
5.
Specific requests such as adjacent or connecting rooms, bedding requests, smoking or non-smoking rooms and special dietary needs should be subjected to reconfirm upon your arrival. We would put on your request to the Hotel.
Price includes:
1.
Airport/railway station welcome and
private transfers between airports/railway stations, hotels and sightseeing spots. Separate arrivals and departures will incur extra charges.
2.
Domestic airfare of economic class or train ticket(s) as mentioned in the itinerary. Airport construction fee and fuel surcharge are included.
3.
Accommodation (if include Yangtze cruiser) based on two adults sharing one standard twin-bed room (cabin); solo travelers or those who want to occupy one twin-bed room/cabin of their own are required to pay additional charge of single supplement rate (S.SUPP in above price table). A single room (cabin) is subject to availability based on prior request at an additional cost; if the recommended hotel is not available, it will be substituted by a similar one.
4.
Driver and English-speaking guide service on normal sightseeing activities noted in the itinerary.
5.
All entrance fees to scenic spots as shown in the itinerary. The final arrangement will be determined by local tour guides based on the local circumstances which are beyond the control of TopChinaTravel. TCT will adhere to the original itinerary as accurately as possible.
Price excludes:
1.
Round way International airfare or train tickets, unless otherwise noted.
2.
Visa fee, passport application or renewal fee.
3.
Tips for guides, escort, drives, bellman, etc.
4.
Personal expenses such as excess luggage fees, laundry, postage, communications and beverages.
5.
Optional meals and shows mentioned in the itinerary, which will be added up if the clients desire to take the activities.
6.
Any extra cost caused by changes of natural disasters, fires, weather, governmental and local authority orders, political change, strikes, war, riots, quarantine, custom regulations, damages or injury caused by accident beyond the control of TopChinaTravel and that has incurred due to the tourist action violating the laws.
7.
Any items not specified in the plan.